We have two pieces of good news to share with you, two new achievements that make us proud and which encourage us to do more and more for the environment. Firstly, the Valle dell'Erica Resort is "Europe's Leading Green Resort", the best green resort in Europe for the third consecutive year and which has also been re-confirmed nationally as "Italy's Leading Green Resort".
Thanks to everyone's support and hard work, Delphina hotels & resorts, the chain to which the Valle dell'Erica belongs, has been re-elected "Italy's Leading Hotel Group", the best hotel group in Italy.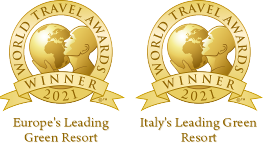 "These awards make us feel really proud and even more so in such an unusual year"
said Elena Muntoni, Delphina brand manager.
"Sardinia's unique character is our primary resource and is always at the heart of our projects. Winning this title for three consecutive years is proof that we are on the right track. It is a clear indication of how it is possible to do business while respecting and enhancing the surrounding area"
.
A tremendous victory for this 5-star resort immersed in 28 hectares of parkland, amidst Mediterranean shrubs and bushes with 1,400 metres of pristine coastline, private coves and white sandy beaches facing the La Maddalena Archipelagos and Southern Corsica. A green oasis in which to experience a "5-stars in Freedom" holiday, in other words, a holiday with no formalities or labels that focuses on the individual and encourages a healthy lifestyle, enjoying the typical hospitality of Gallura, its unique places, flavours and traditions yet without sacrificing comfort and the excellence of our services.
The sustainable path taken by the Valle dell'Erica Resort is best summed up by the We are green® protocol, a brand created and patented by Delphina to represent its commitment to the environment. Forward-looking choices and sustainable good practices including the use of 100% green energy exclusively from renewable sources, the policies to limit the use of plastic, the exclusive use of electric vehicles for guests to move around the resort and the recharging of electric vehicles available at no extra cost.
Social responsibility and support for local suppliers are also important and are part of the "Genuine Local Food Oriented®" project, a Delphina quality brand aimed at encouraging healthy cuisine based on genuine ingredients that respect the seasonal nature of food production, preferably at 0kms, a preference for items of furniture and decor manufactured by Sardinian companies and the promotion of cultural events and excursions that highlight nature, history and archaeology.